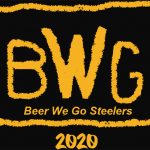 What has gone right? The Steelers are 8-0 so that is a pretty "right" thing, and I honestly believe that they haven't played their best football yet. No 8-0 teams has had to endure the absolute garbage media coverage this team gets. For some reason the Steelers should be apologizing for playing lousy football AND still winning.  Ben Roethlisberger's revival has been nothing short of phenomenal. He is using all the weapons at his disposal and is the number ONE reason, the Steelers are sitting where they are. The Receivers (WR and TE) are beginning to develop into a first-class unit and may again challenge as the best unit on the team. The front seven, when healthy, is among the best in football. They are getting to the Quarterback consistently. The special teams up until last week was surprising enough a strength…but then came down to earth. The coaching has been solid and consistent. They have never gotten too high or too low and they keep the Steelers in every game.  One word for you: Mondeaux-Mania has hit the Burgh!
What has gone wrong? As it has for just about every American, COVID has wreaked havoc on the Steelers. Between having the games rescheduled to having players test positive and sending everyone into quarantine this week. Losing Devin Bush for the season is a tough blow. After six games of absolutely demolishing every team up front, the run defense has looked leaky the last two weeks. Against the Ravens you can give a mulligan, because the defense stepped up in other ways, against the Cowboys, it starts to ring the alarm bell. It looks like teams have found ways to exploit the Steelers zone defense in the passing game. The Steelers have also abandoned the run game because of inconsistency. Not being able to convert 3rd and short and 4th and short is troubling. That's a challenge that will need to be addressed.  On a personal and non-game related note Tunch Ilkin having Lou Gehrig's disease is just tragic.
Reasons for Concern: Well according to the media the Steelers are not a great team. I don't buy it. Injuries have derailed several of the Steelers Super Bowl contenders, so that is a huge reason for concern. This year is the most unique for injuries because of the uncertainty of COVID. The defense needs to step up and make everyone a believer again. Tyson Alualu and Mike Hilton returning will be a major factor. The running game needs to reappear.
Offensive Game Beer:  Have to go with Ben Roethlisberger. The offense is just in a different gear when he is in the game. Honorable Mention: JuJu Smith-Schuster, Chase Claypool, Diontae Johnson.
Defensive Game Beer: Tough one to pick, have to go with T.J. Watt who has made several key plays at key times and leads the team in sacks. Honorable Mention: Stephon Tuitt, Cam Heyward and Vince Williams.
Disappointment of the first half: James Conner not seizing the running back job. He can write a great second half if he gets to play and the right amount of touches.
Most Improved:  Diontae Johnson has been a playmaker for most of the season. Also Considered; Ray-Ray McCloud who dramatically improved the return game. Terrell Edmunds has done a very good job.
GRADES:
QB: A-, Ben Roethlisberger is playing some of his best football.
RB: C+, James Conner needs to step up in the second half. They have been passable this season but need to be much more consistent.
WR: A, This group has done an amazing job and everyone seems to have found their role. JuJu Smith-Schuster and James Washington make the tough catches. Diontae Johnson is the playmaker, Chase Claypool takes the top off the defenses.
TE: B, This could have been an A- or a B+ but they need to play more consistent. Eric Ebron is an absolute difference maker, except when he isn't. He shows flashes of brilliance but makes a lot of mistakes. He needs to be more consistent in the second half. Vance McDonald has done a good job.
OL: B-, Pass blocking they have done a consistent and solid job. Run Blocking they have been inconsistent and need to do a better job opening up holes for the running backs.
DL: A-, Have played consistently strong and this would have been an A+ if Tyson Alualu would have been in these last two weeks. When they are healthy they anchor the defense.
LB: A, Very strong performance on the outside with 13 sacks between T.J. Watt and Bud Dupree. Robert Spillane has stepped up in Devin Bush's absence and the Steelers brought in a great reinforcement in Avery Williamson. Vince Williams continues to play well.
DB: B, They have not been spectacular but they have made the plays when needed, including two goal line stands to preserve two victories. Minkah Fitzpatrick is beginning to shine again. Steven Nelson and Joe Haden are playing strong consistent football. Terrell Edmunds has improved this year.
Special Teams: B+, This would have been an A, but the Dallas game derailed that. If you take out last week. Every aspect of special teams has been good. The punting game was inconsistent but passable. Little Bos drilled the longest field goal in team history. Ray-Ray McCloud was a GREAT find!
What does part two look like: COVID makes everything a challenge right now. Hard to figure out what will happen. As for the things The Steelers can control. They will indeed lose a game or two and everyone will panic especially if it is to a jabroni team like the Jaguars or the Bengals. They have a tough game in Buffalo and the Ravens are extremely dangerous especially on a short travel week. That being written, this is a Super Bowl caliber team in so many ways. Worst case if everyone stays healthy is 13-3 and best case is 14-2.
BEER WE GO STEELERS! BEER WE GO!