September 21st, 2010
Beer We Go was founded and is a registered trademark of Thomas Janicki, As his tribute to the team he has always loved!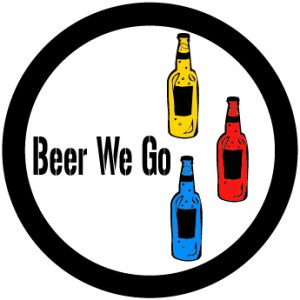 In 1996 to celebrate their graduation from college, Tom Janicki and Eddie Harkins threw a tailgate party to celebrate! The first 50 people who showed were given Beer We Go Steelers T-shirts! They honored the past, the present and all things Black and Gold and the rest they say is history! Beer We Go was born!
The Beer We Go Crew has been blurring the line between civic pride and booze-addled bloodlust in a way that offers easy no moral lessons or concern for local regulations, ourselves and, in some cases, decency, since 1996. Over the past decade and change, this ever growing mob has participated in activities such as taking over entire sections of stadiums at away games, breaking into zoos, creating yinzer super heroes, starting meat fights during live local news interviews, doing barrel rolls in the middle of Carson Street, throwing Super Bowl parties in movie theaters, blowing up grills, inventing new parking lot games, blasting holes into the side of kegs, learning dance moves from 8 year old candy vendors and generally having the kind of fun most people reserve for weddings, graduations and military victories. Except weekly. In parking lots and bars. And often very early on Sundays.
Woven throughout this tapestry of alcoholic triumph and bitter hate for our rivals, there is a common thread of pride for our town, in rooting for the Black and Gold just as our parents and their parents did and knowing you're a part of the most storied and successful franchise in the NFL. This combination of fringe activity and loyalty among neighbors has allowed the Beer We Go message to be carried on t-shirts from the shores of the Three Rivers to war zones overseas, the occasional hand-holding Korean(we have pictures) and all points in between.
Currently, the Beer We Goers can most easily be found in multiple lots throughout the stadium lots on Sunday mornings.  Anyway, Captain Tailgate, parts unknown and typically too drunk to care about anything other than Steeler football, will "attempt" to use this forum to speak the Beer We Go Gospel.   The ultimate goal is to spread the message to any and all that share this common bond of a love for Steelers and an occasional hardcore binge drinking black-out. 
The initial message is simple yet very powerful:
Beer We Go Steelers, Beer We Go!
Currently Beer We Go Steelers is from coast to coast:
Tom Janicki, CEO, Chairman Of the Board
Matt Pomara, National Vice-President, NY Chapter President 
Eddie Harkins, Co-Founder, PA Chapter President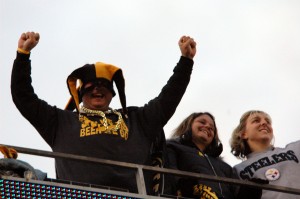 Captain Tailgate: Official Mascot of Beer We Go! Captain Tailgate can be booked for your Tailgate Party by contacting captain.tailgate@bwgsteelers.com
Any yinz interested in joining Beer We Go contact mattp@bwgsteelers.com
WE LOVE ALL YINZ!!!
18 Responses to "About"
Leave a Reply